1. How The West Was Won - Led Zeppelin
Led Zeppelin was the greatest hard rock band on the planet. The term "heavy" was invented to describe them, and any band that has come since that dares to call themselves "heavy" must still bow to the mighty Zeppelin. Nothing exhibits the heaviness of Led Zeppelin like their live performances in their prime, and this is captured perfectly on their triple-disc live set "How The West Was Won". You can hear them at their loudest (Immigrant Song), their folksiest (Bron-Yr-Aur Stomp), and their most ridiculously self-indulgent (Whole Lotta Love and Dazed and Confused), and it will all make your jaw drop. Hard rock bands, this is the level you aspire to, but don't bother trying to reach it. You won't.
~ TheLizard


Black Dog
2. MTV Unplugged in New York - Nirvana
With their Unplugged session Nirvana shattered the world's opinion of what their 'sound' was. Where past albums and concert performances gave the impression that their angst-fuelled talent usually culminated in music that was very LOUD, this acoustic session proved that the pounding drums, heavy guitars and throbbing bass weren't amped up to drown out a lack of talent.
With not much more than an additional guitarist and a periodic cello, Cobain and co. lead the listener through eight reworked versions of their songs - most of which are only album tracks, three songs acknowledging their musical mentors and three songs that belonged to a little known guest band called the Meat Puppets - now most famous for being the band that had Nirvana cover its songs. It starts with a relatively obscure tune from their first album, and ends with a cover of a Leadbelly song that many regard as Cobain's finest vocal performance. listen to this album in a quiet room, turn the lights down low and you're with them - they're playing for you.
~ Levis
Pennyroyal Tea

3. 'Live' Bullet - Bob Seger & the Silver Bullet Band
A lot of the music I was exposed to in my younger day was all due to my sister, who is 3 years older than me....When she bought this album, which she played constantly I absolutely loved it!..I never got a chance to see him in concert, but from what I've heard, he puts on quite a show....
~ Laurie
"Live Bullet" was recorded while Bob Seger was still just a regional artist. It was recorded in front of a hometown audience in Detroit, Michigan in 1976. With each song, you can feel the electricity, and the audience response building. It is probably one of the best examples of the spirit that was felt at a 1970's era rock concert. The album, and the tour that followed, supporting the album, propelled Seger, and his Silver Bullet Band into international prominence. As an audience member at one of those concerts, I can say with assurance that the performance was easily the best I've ever seen. "Live Bullet" brings back memories of that time each and every time I hear it.
~ Lucky


Travelin' Man / Beautiful Loser
4. Get Yer Ya-Ya's Out! - The Rolling Stones
When "Get Yer Ya-Ya´s Out" was released in September 1969, the bootleg album "Liver That you´ll Ever Be" (from the same tour, in their Oakland concert) was already a hit among the Stones lovers. An official live album was a must, as well as for the fans or as for the record company and the Stones themselves. They made a little gem. It was the first tour with Mick Taylor.
The album was recorded in the Maryland and New York shows and it reached #1 in the UK and #6 in the US charts. By then, they were already preparing the "Sticky Fingers" album and you can find on this live record some their best performances: "Stray Cat Blues" (thrilling version), Johnson´s "Love In Vain" or the all-times classics "Sympathy For The Devil", "Honky Tonk Women" or "Street Fighting Man". As well as some rockings "Carol" or "Little Queenie".
At least, The Rolling Stones had their official live and excellent album; "Get Live If You Want It", live LP released in the US in 1966 was a bit tricky; recorded live but with some screams and special effects added in the studio)
~ Edna


Carol, Little Queenie
5. Live at Leeds - The Who
If someone asked me to define rock for them, I'd hand them a copy of Live At Leeds and send them on their way. Firstly, there's the songs themselves. Half of them may be covers, but after they've been given this distinctive Who treatment, you'd think they were written just for this performance. And the songs written by Pete Townshend take on a life of their own – My Generation, which was split into six different tracks on the Canadian release, manages to reprise almost the entire career of the band in fifteen minutes, and Substitute and Magic Bus don't have that much in common anymore with the comparably tame studio recordings.
Then there's the sound. This album manages to blow you away with the sheer loudness and power that's being created by only three instruments – The Who were not the loudest band on the planet for nothing. Manic drumming that doesn't seem to follow any rules and a bass that makes the floor vibrate and drowns everything else out may be out of place in other bands, but together with Pete Townshend's guitar playing it works a magic that almost never fails. And amazingly enough, Roger Daltrey can definitely hold his own and make himself heard over this ongoing explosion of sound – you really don't want to be an 'old man' crossing his path when he belts out the lyrics to Young Man Blues.
But rock is also about fun. Listening to later versions of the album which feature many more songs, you get treated to a lot of band and audience banter, but even listening to Roger Daltrey and Pete Townshend trying to negotiate the price of the Magic Bus on the original version, you can tell that they're not just doing this because they have to.
And that's what makes Live At Leeds such a great recording. Do you need any more reasons for why this is the greatest live album of all time?
~ The Seeker


Tommy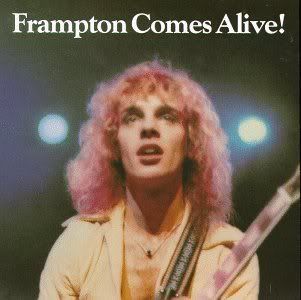 6. Frampton Comes Alive! - Peter Frampton
This is the one that propelled Peter Frampton into megastardom. It was my first Frampton experience, and easily slipped right into the annals of music history for me. There is something about the songs on this album that play so much better live than on studio albums, and the talk box Frampton used on some songs made them seem a whole different dimension.
"Frampton Comes Alive" is another great example of the '70's era rock concert, the wild abandonment and the connection between artist and audience. In those days it was a joint affair, the audience contributing as much to the show, as the headliner. Prior to "Frampton Comes Alive" , Peter Frampton had enjoyed minimal success to say the least. All that changed in 1976, with the release of this breakthrough album, which spent 97 weeks on the Billboard 200. As of today's date, Frampton Comes Alive is the 4th bestselling album of all time! Not too shabby for a guy that never even had a hit single. I distinctly remember hearing "Do You Feel Like We Do" the very first time. The talk box, which hadn't been used widely to that point, sucked us in, and made the song irresistible. The same is true for the rest of the album, with "Baby I Love Your Way" and "Show Me the Way" being the other two songs that shot Peter Frampton into superstardom.
~ Shawna


Show Me the Way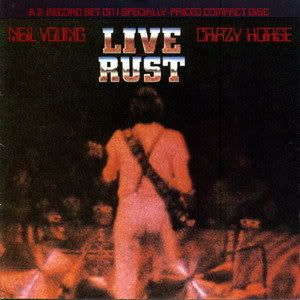 7. Live Rust - Neil Young & Crazy Horse
Well what can I say about Mr. Neil Young & Crazy Horse....I probably could go on and on, but basically he is just one cool talented guy, who has been around for quite awhile and has done it all...I'm not real big on buying live albums, but this one was a must....Whether it's "one note Neil" on the electric guitar, or the mellow Neil on acoustic, it's all good...And he definitely can play the heck out of one note that's for sure!...And lyric wise, he's one of my favorite singer/songwriters....I did get a chance to see Neil Young & Crazy Horse in '79...Excellent concert.
~ Laurie


Like a Hurricane
Via:
www.songfacts.com